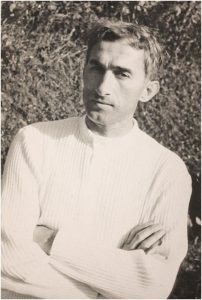 My father Nikola Knežević was a painter.
It wasn't only his profession, but his essence.
L'art pour l'art.

He grew up fatherless, survived the Second World War, endured periods of hunger after the war and saw the breakup of Yugoslavia.
When and how a poor rural child revealed a magic of painting has remained unknown. There are always some questions we fail to ask due to the fast paced world we live in.
Nikola Knežević admired great artists of Italian Renaissance, loved the colours of Impressionism and restless geometry of Cubism, while he was constantly in search for his own expression.
He was neither a member of any association of painters nor took part in significant exhibitions. Art critics did not write about him and very few people knew about his works of art.
The paintings that he left behind are the result of his experimental wandering through various artistic styles, as well as a reflection of emotional state of a man who was relentlessly searching for imperishable beauty.